The soft-format code for Series 60 phones is *#7370# . You enter this code as you would enter a phone number in the Phone application. It performs a format of the Internal drive – All data will be lost if you use this feature.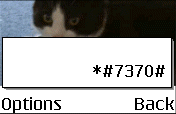 The method of performing a hard-format, i.e resetting it completely to factory defaults and removing all data, is as follows:
Switch off the phone.
Hold down the following three buttons: Green (call answer) button, * button, and '3′ button
While holding these buttons, press the power button and switch on the phone
When the message 'Formatting' appears on the screen, release all of the buttons
Note that you shouldn't switch the phone off or remove the battery when performing either of these operations, and it's advised that the handset has a reasonable amount of battery charge before performing a format/reset.
Fabio Laganà friends, Nokia 6600, default, factory, Howto, Nokia